Edge sander HB 1000
HB1000 is multipurpose edge sander with belt oscillation and height adjustable sanding unit designed for demanding works with large dimension parts. The machine can be used for sanding veneer edges, sanding the edges on the propeller roller or by means of sanding rollers of various diameters.
I am interested in this machine
Product benefits
1998
We produce the machine since 1998
20
We delivered the machine to 20 of the world's countries
2100
We produced the machine for 2100 of satisfied customers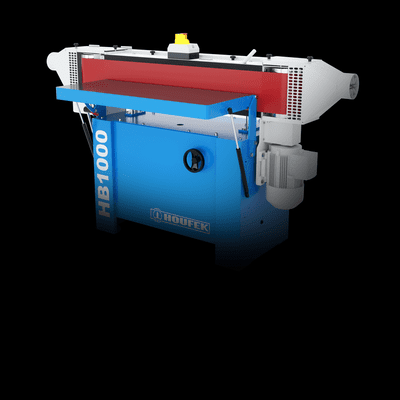 sanding belt width is 200 mm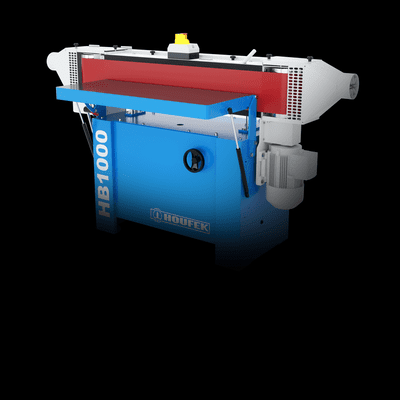 sanding belt length is 3200 mm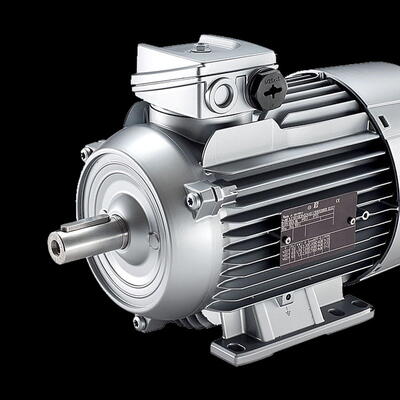 motor power 3 kW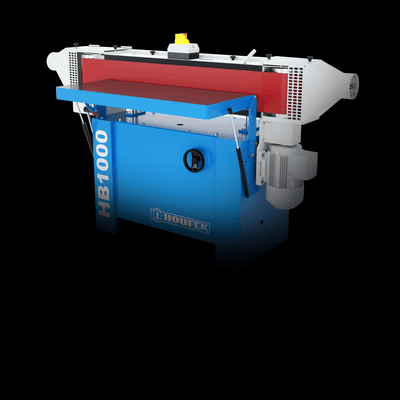 tilting table 0-45°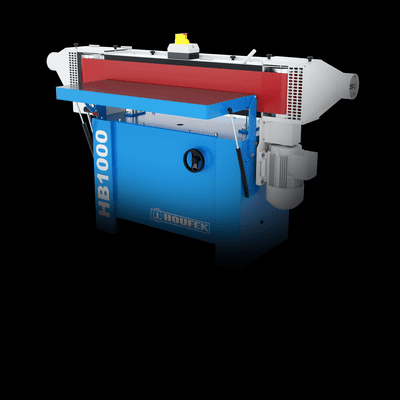 work table dimensions 400 x 1000 mm
Use
The edge sander HB 1000 is multipurpose machine designed for:
sanding of perpendicular and bevelled edges of smaller workpieces placed on height adjustable worktop with the option of using the support rotary ruler forming a part of optional equipment
sanding surfaces of minor parts on tilted desk at the sanding unit with the option of using the longitudinal shifting ruler attached on the worktop
sanding round and radius edges and surfaces of small parts by means of the sanding ruler using the height adjustable, auxiliary desk
Interesting product
high performance edge sander of verified construction with extensive accessories for radius sanding, veneer edges, and with the option of feeding device assembly
Specifications
| | |
| --- | --- |
| Work table width | 400 mm |
| Sanding belt width | 200 mm |
| Sanding belt length | 3 200 mm |
| Sanding belt speed | 13 m/min |
| Work table length | 1 000 mm |
| Work table tilt | 0 - 45 ° |
| Motor power | 3 kW |
| Dust extraction outlet diameter | 2x120 mm |
| Weight | 500 kg |
Standard equipment
motor 3 kW / 4 HP, 1400 rpm, 13 m/s
width of belt 200 mm, belt length 3200 mm
tilting working desk 0 - 45°
lifting sanding unit
mechanical belt stretching
belt oscillation
CE electric and safety standard
Optional accessories
motor 2,2 kw, supply voltage - 1 phase 230V/50Hz
motor with electrically controlled brake
two speed motor 13 / 26 m/s
frequency converter of the main sanding unit motor 3 - 20 m/s
side desk 460 x 440 mm with suction outlet diameter 120 mm for sanding on propeller roller + rubber coated roller
adjustment for accurate base sanding with workpiece guiding, including flat base, additional shifting desk 1000 x 400 mm
adjustment for sanding with sanding rollers with auxiliary desk 460 x 400 mm with suction outlet diam. 120 mm including the sanding roller diam. 60 mm with sanding paper
additional shifting desk 1000 x 400 mm
angle ruler solid or shifting in "T" slot
pneumatic stretching of sanding belt
feeding device for sanding on propeller roller controlled with pedal Console for feeding device
pneumatic blow for cleaning the sanding belt
suction hub on worktop with magnetic fixture
set of rollers , diameter 45-80-120 mm
Edge sander HB 1000Alternative products

45 countries
We export to 45 countries all over the worlds. Our machines run also in overseas states.

Quality
Houfek machine have unique rigid design. We care about maximum quality of all parts and components.

Service
We offer service and replacement of parts besides sales.

Cooperation
We cooperate with schools. We organize excursion and cooperate on school projects.